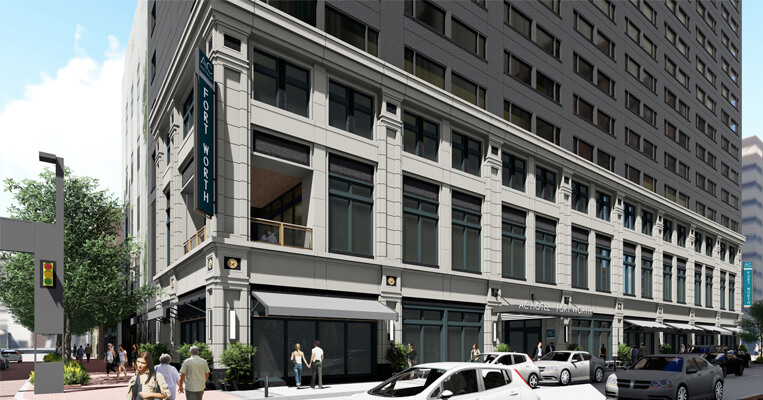 JACKSON-SHAW STARTS CONSTRUCTION OF 16-STORY AC HOTEL FORT WORTH
Design-Driven AC Hotels by Marriott® Brand to Debut in Tarrant County in Late 2020
FORT WORTH (Feb. 15, 2019) – Jackson-Shaw, a national real estate development company headquartered in North Texas, today commenced construction on the 252-room, 16-story AC Hotel Fort Worth in downtown Fort Worth. When the property opens in the fall of 2020, it will be the first AC Hotel by Marriott to debut in Tarrant County, Texas, offering travelers both a thoughtful approach to design and intuitive, elevated guest service. The hotel is rising on the southwest corner of Fifth and Main Street, adjacent to the historical art deco Kress Building, and only minutes away from wonderful restaurants, entertainment, shopping and night life options.
"We believe the hotel's classic modern design, with its European soul and Spanish roots, will strongly complement the distinctive legacy and stylish sensibilities of downtown Fort Worth," says Michele Wheeler, Jackson-Shaw president and chief operating officer. "Our company has deep roots in Tarrant County, including our Parc North urban industrial development and Chisholm Springs residential development. So, we're thrilled that the AC Hotel will soon be part of Fort Worth's vibrant cultural scene with its world-class performance venues, theaters, art galleries and festivals."
AC Hotel Fort Worth will provide a hospitality experience entirely new to the city. The shape, the rhythm and the beauty of the details represent a fusion of flavors that create the perfect moment for visitors. The hotel will include modern guest rooms and public spaces designed with sleek furnishings, curated art installations and intuitive technology elements – as well as rooftop meeting space.
"Jackson-Shaw's AC Hotel Fort Worth will be a great addition to our incredible downtown," said Fort Worth Mayor Betsy Price. "As a community that celebrates our rich arts and culture scene, we are excited for the unique experience AC Hotel will provide visitors, with curated art installations and a vibrant atmosphere."
Another focal point of the hotel will be the AC Lounge, a communal space of creativity that features a full bar serving local beers and hand-crafted cocktails, along with tapas plates. The property will provide a European-style breakfast, 24-hour purposely designed wellness center as well as the added amenity of a separate, third party leased, full-service restaurant on the first floor. The AC hotel experience is designed to offer a collaboration by day, and a social buzz by night.
"We are thrilled to be working with Jackson-Shaw to open the first AC Hotels by Marriott® in Tarrant County, Texas," said Eric Jacobs, Marriott International, Chief Development Officer, Select and Extended Stay Brands. "When it opens, this hotel is sure to become a stylish hub for business and leisure travelers, alike."
AC Hotel Fort Worth is a creation of Jackson-Shaw, which has completed 60 million square feet of hospitality, industrial and residential developments since their founding in 1972. Development partners for the AC Hotel Fort Worth include:
• Financing: Simmons Bank
• Design: Merriman Anderson Architects
• General Contractor: Austin Commercial
• Project Management: Epperson Company
RENDERINGS AND AC HOTEL FORT WORTH OVERVIEW
AC Hotel Fort Worth Media Room
AC Hotel Fort Worth Landing Page
ABOUT JACKSON-SHAW
Jackson-Shaw, a national real estate development company headquartered in North Texas, has 46 years of experience developing diversified real estate properties mixing practical experience with vigorous entrepreneurship. The company has developed more than 60 million square feet since its founding which include a variety of project types, including hospitality, industrial and residential development. Diverse markets Jackson-Shaw currently develops within include Fort Worth, Dallas, Houston, Denver, Scottsdale, Phoenix, Jacksonville and Washington, DC. For more information, visit www.jacksonshaw.com.
MEDIA CONTACT
Jason Meyer, Cooksey Communications
972-580-0662 x21, 817-917-0180 Mobile
Jason@CookseyPR.com