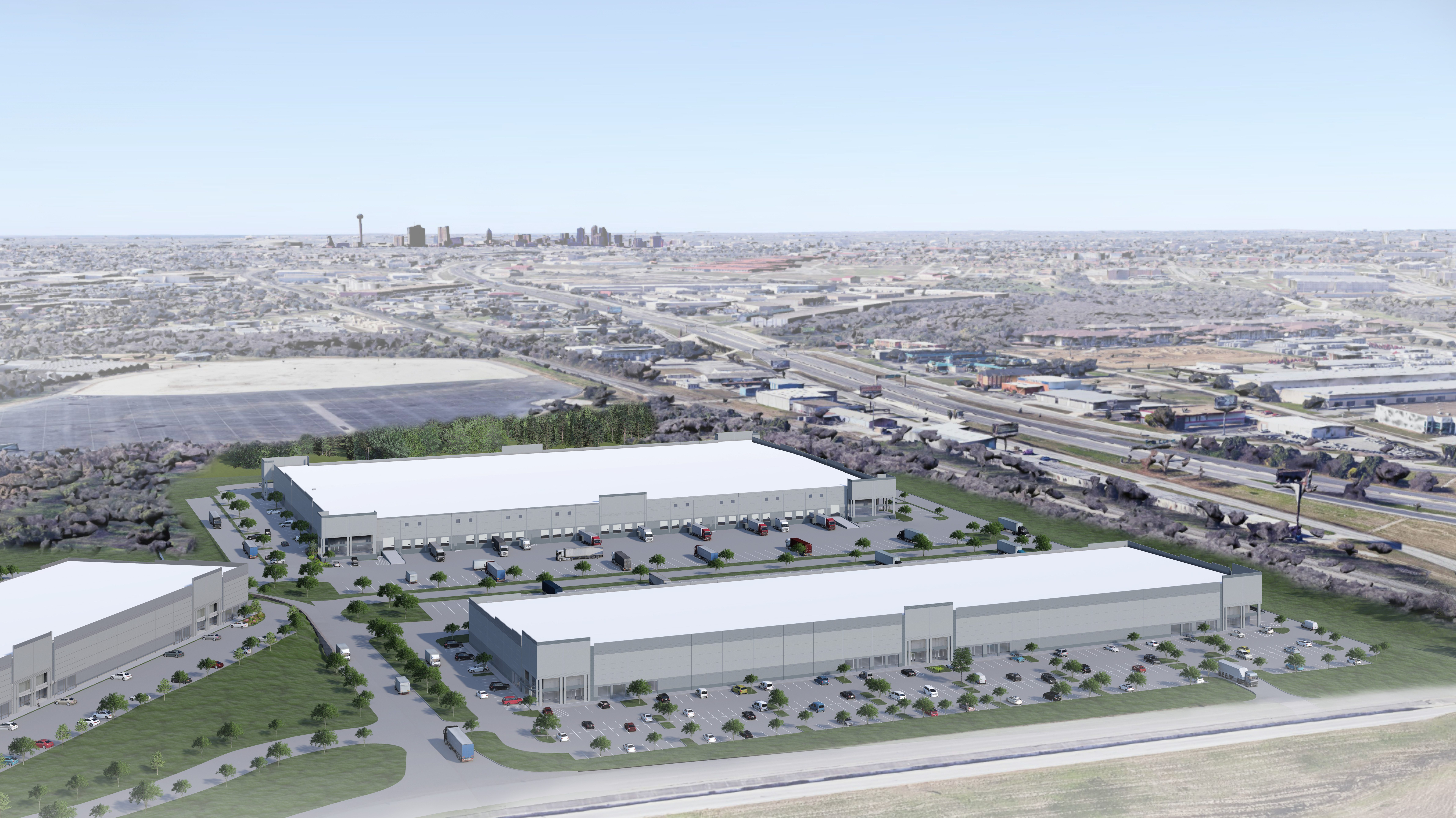 RETAIL VENDING PROVIDER SIGNS PRE-LEASE IN JACKSON-SHAW'S CENTERPOINT PHASE II LOGISTICS PARK IN SAN ANTONIO
SAN ANTONIO (December 15, 2022) – Jackson-Shaw, a national real estate development company headquartered in North Texas, announces that a large unattended retail provider offering service across multiple lines of business has signed a pre-lease in its 36-acre CenterPoint Phase II Logistics Park. This lease is for 73,873 square feet in Building 4 of CenterPoint Logistics Park.
"Positive net absorption in the San Antonio industrial market has remained strong in 2022. With a healthy pipeline of prospective tenants and decreasing vacancy for Class A Industrial product, all signs point to a continuation of robust leasing through 2023," said Grant Pearson, vice president of development at Jackson-Shaw. "The strategic location for this best-in-class development at 410 Loop and Interstate 35 interchange is ideal for logistics and e-commerce tenants."
CenterPoint Logistics Park is located at 4235 Milling Road, just inside Interstate 410, south of where it intersects with Interstate 35. The 62-acre master-planned development has over 2,200 feet of frontage at 410 Loop and Interstate 35 interchange. CenterPoint Logistics Park I and II comprises five buildings totaling 719,225 square feet of Class A industrial development. Phase II broke ground in August 2022 and consists of two buildings. Building 4 is 139,427 square feet, rear-load and Building 5 is a 277,280 square feet cross-dock. Phase II is scheduled to be shell completed in Q3 of 2023.
R.C. Page Construction is the general contractor for the project, with Beaty Palmer Architects as the project's architect, Kimley-Horn as the civil engineering firm and Veritex Community Bank as the lender. Kevin Cosgrove and Walter Simpson of Stream Realty Partners manage the leasing assignment for the development.
CENTERPOINT PHASE LOGISTICS PARK
https://www.dropbox.com/sh/n161eav4t86sso2/AAAXxhYzlxUddphFyjRwwY8Sa?dl=0
ABOUT JACKSON-SHAW
Jackson-Shaw is a national real estate development company headquartered in North Texas with 50 years of experience mixing practical knowledge with solid entrepreneurship. Since its founding, the company has developed more than 62 million square feet, including hospitality, industrial and residential projects. Diverse markets where Jackson-Shaw develops include Dallas, Fort Worth, Austin, Houston, San Antonio, Charlotte, Denver, Las Vegas, Scottsdale, Phoenix, Jacksonville and Washington, D.C. Visit JacksonShaw.com.
MEDIA CONTACT
Randy E. Pruett, Cooksey Communications
214-505-1685 Mobile