New Element Hotel Scottsdale at SkySong To Debut Stunning Mark Carroll
Original Sculpture as Part of Balanced Lifestyle Emphasis
Exclusive BALANCED, JOURNEY Installation Will Be Unveiled on June 12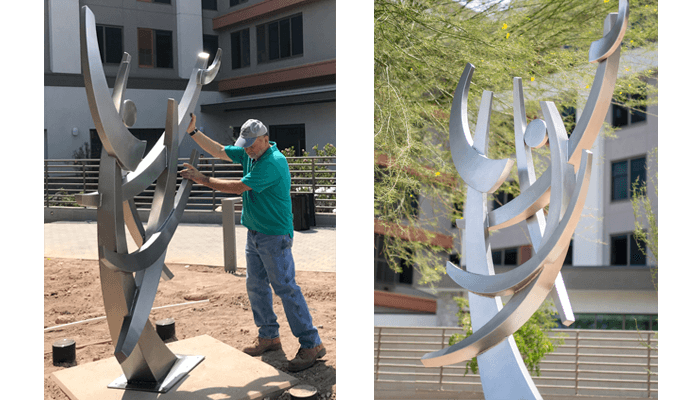 SCOTTSDALE, Arizona (June 12, 2019) — Scottsdale's newest hotel is about to become home to the city's latest piece of iconic artwork. Slated to open in late June, the new 157-room Element Hotel Scottsdale at SkySong is proud to announce BALANCED, JOURNEY, an exclusive larger than life art installation which will be prominently located at the hotel's garden entrance. Created by celebrated local artist Mark Carroll, the commissioned artwork, forged in 304 stainless steel and standing over 8 feet tall, illustrates nature's organic forms, including the human figure and is inspired by Element Hotels' commitment to a balanced lifestyle while on the road. The new piece will be unveiled on site June 12th, 2019.
"My concept for the sculpture is that it is free flowing and airy, having a feeling of balance, freedom and movement," Carroll said. "It challenges different interpretations. It might be seen as figurative, like a dancer, or maybe a cloud-filled sunset, or maybe a star in the cosmos. Viewers are encouraged to bring their own interpretations to the sculpture."
Slated for completion late June, Element Hotel Scottsdale at SkySong will be conveniently located within the master-planned SkySong development, the ASU Scottsdale Innovation Center. The hotel's ethos of a balanced lifestyle will echo throughout the 157-room property as one of Marriott's premium lifestyle brands created for today's healthy, active travelers. Element Hotels has redefined the longer stay experience with an outdoor-inspired design philosophy that is clean, modern and bright.
"Designed to fuel a balanced life while on the road, we are striving to create a unique sense of place at the Element Hotel Scottsdale at SkySong, and the BALANCED, JOURNEY artwork being installed on the site is an important part of that vision," said Michele Wheeler, Development Partner of the Element Hotel Scottsdale at SkySong and President and Chief Operating Officer for Jackson-Shaw. "Mark's incredible sculpture aligns our vision, engaging the senses that will hopefully inspire and enchant visitors."
As part of an extensive overall art program at SkySong, the ASU Scottsdale Innovation Center housing the iconic shade structure and several public art exhibits, including new public art to be installed upon the completion of the new SkySong 5 building.
For additional information on Element Hotels please visit https://element-hotels.marriott.com.
ABOUT THE ARTIST
Carroll has been a local professional sculptor and in business as The Sculpture Studio since 1985. After teaching high school art for eight years, he left to make a career as a sculptor and established his own studio. From his start carving small wildlife woodcarvings, his career has evolved into creating large sculptures for corporate office buildings, churches, and hospitals and he has sculptures in private collections across the country. In 2014, Mark won a nationwide competition to create two monuments for the entryways to the Town of Cave Creek. He fabricated two nine-foot tall stainless steel horses, which were mounted on four foot tall bases, making each monument size thirteen feet tall.
HOTEL DEVELOPMENT
Developed by Jackson-Shaw, one of the nation's most notable names in hospitality development. The Element Hotel covers an expansive, 99,345 square feet of space and provides a highly sustainable, health-focused environment for guests. Boasting 2,201 square feet of communal and banquet meeting space and a 2,698 square-foot open-air courtyard, Element offers a wide variety of amenities for guests, ranging from a natural saline swimming pool, heavenly bed, motion fitness center, rooms for your mind to enjoy and live. A true place to stay and be, a place to "Stay in your Element."
Jackson-Shaw, a national real estate development company headquartered in Texas, has 46 years of experience developing diversified real estate properties mixing practical experience with vigorous entrepreneurship. The company has developed more than 60 million square feet since its founding which include a variety of project types, including hospitality, industrial and residential development. Diverse markets Jackson-Shaw currently develops within include Fort Worth, Dallas, Houston, Denver, Las Vegas, Scottsdale, Phoenix, Jacksonville and Washington, DC. For more information, visit www.jacksonshaw.com
HOTEL PARTNERSHIP & FINANCING
The hotel is being developed in partnership with Somera Capital Management, a Santa Barbara-based real estate investment firm that was founded in 1994 to acquire and manage value-added real estate investments on behalf of its principals and accredited investor partners.
UMB Bank is providing construction financing.
HOTEL A&E and CONSTRUCTION
Jackson-Shaw engaged Cooper Carry, a nationally lauded architectural firm and general contractor, Layton Construction Company.
MASTER DEVELOPMENT – SKYSONG, THE ASU SCOTTSDALE INNOVATION CENTER
Plaza Companies is the master developer of SkySong in partnership with Holualoa Companies, ASU University Realty and the City of Scottsdale.
ABOUT ELEMENT HOTELS
Element® Hotels, part of Marriott International, Inc., is made to order for guests in the know and on the go. Its bright design defies convention, bathing guest rooms and public spaces in natural light. Stylish and sustainable throughout, Element offers extended stay comfort with a conscience and lots of signature amenities from its healthy RISE breakfast and RELAX evening reception to saline swimming pools, spacious fitness centers, bikes to borrow and electric vehicle charging stations. Element made history in 2008 as the only major hotel brand to pursue LEED certification for high-performance buildings brand-wide.For more information, visit www.ElementHotels.com or connect on Facebook and Instagram. Element is proud to participate in Marriott Bonvoy, the new name of Marriott's travel program replacing Marriott Rewards®, The Ritz- Carlton Rewards®, and Starwood Preferred Guest® (SPG). The program offers members an extraordinary portfolio of global brands, experiences on Marriott Bonvoy Moments and unparalleled benefits including earning points toward free hotel stays and nights toward Elite status recognition. To enroll for free or for more information about the program, visit MarriottBonvoy.marriott.com.
ABOUT MARRIOTT INTERNATIONAL, INC.
Marriott International, Inc. (NASDAQ: MAR) is based in Bethesda, Maryland, USA, and encompasses a portfolio of more than 7,000 properties in 30 leading hotel brands spanning 131 countries and territories. Marriott operates and franchises hotels and licenses vacation ownership resorts all around the world. The company now offers one travel program, Marriott Bonvoy™, replacing Marriott Rewards®, The Ritz-Carlton Rewards®, and Starwood Preferred Guest®(SPG). For more information, please visit our website at www.marriott.com, and for the latest company news, visit www.marriottnewscenter.com. In addition, connect with us on Facebook and @MarriottIntl on Twitter and Instagram.
MEDIA CONTACT
Contact: Tom Evans
602.448.5483 | tom@evanscommunications.com