JACKSON-SHAW'S URBAN INDUSTRIAL DEVELOPMENT PARC SOUTHWEST IN IRVING 100% LEASED
Class-A Urban Industrial Development South of DFW Airport was 75% Pre-Leased Prior to Completion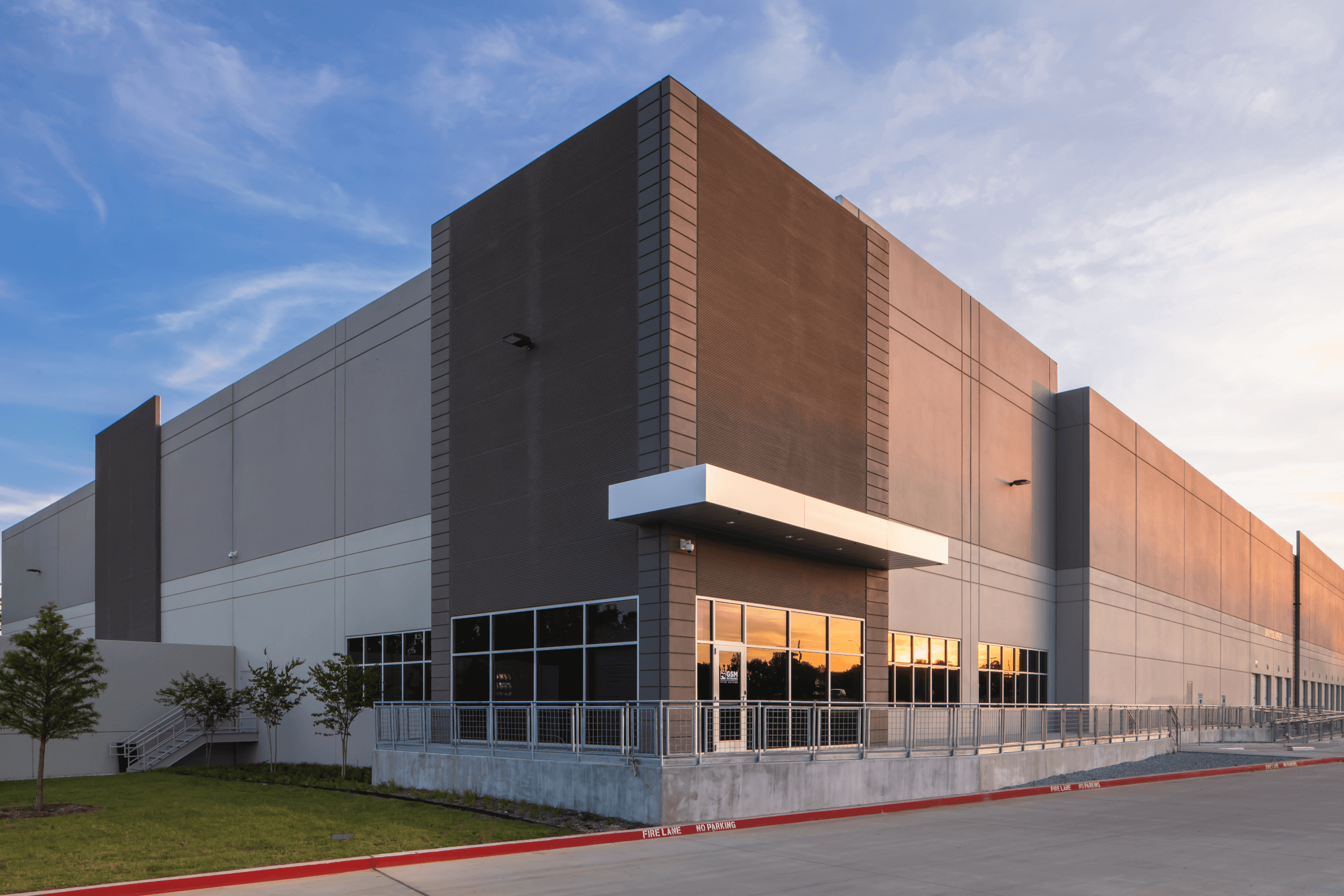 DALLAS (August 13, 2019) – Jackson-Shaw, a national real estate development company, announced today that Parc SouthWest, its 292,997-square-foot, two-building, Class-A urban industrial development in Irving, Texas, is 100% leased.
Good Sportsman Marketing, a leading designer and distributor of branded hunting accessories, has leased the entire space in Building A, which is approximately 180,497 square feet. Building B will be fully occupied by three tenants. These tenants are Hallmark Building Supplies, Inc., a marketer and distributor of branded building materials, which has leased 51,850 square feet; Flat World Supply Chain, which provides transportation technology tools and logistic services, has leased 43,293 square feet and Victory Polymers Corp, which supplies Spray Polyurethane Foam insulation technology and products, has leased the remaining 17,286 square feet.
"Before the construction of Parc SouthWest, there was a notable absence of quality, Class-A industrial space for small to medium-sized tenants in the Great Southwest, one of the most in-demand industrial submarkets in the area," said Grant Pearson, vice president of development at Jackson-Shaw. "The construction of this vital development has provided an alternative option for these smaller tenants seeking a modern space that wasn't previously available in this premier submarket."
Positioned on 28 acres, Parc SouthWest is ideally located south of Dallas-Fort Worth International Airport and offers direct access to State Highway 161 and State Highway 183, both of which connect to major north-south and east-west thoroughfares and is in equal proximity to the central business districts of Dallas and Fort Worth. Building A, a 180,497-square-foot front load building is located at 5250 Frye Road. Building B, a 112,429-square-foot rear load building is located at 5251 Frye Road. Both offer modern facility features including 32-foot and 30-foot clear heights, 130-foot truck courts and ESFR sprinklers.
"Parc SouthWest's location in the coveted Great Southwest makes it one of the most valuable distribution sites in the market," said Sarah Ozanne, vice president at Stream Realty Partners. "Only minutes from the airport and state highways, this site offers tenants easy, direct access to both air and ground transportation, making anywhere in DFW and as well as nationally readily available to them."
GID is the project's equity partner, Ridgemont Commercial Construction is the general contractor for the project, with GSR Andrade as the project's architect, Halff Associates as the civil engineering firm and Veritex Community Bank as construction financier. Luke Davis and Sarah Ozanne of Stream Realty Partners managed the leasing assignment for the development.
PARC SOUTHWEST OVERVIEW AND PHOTOS
https://www.dropbox.com/sh/lx0l6ujprbdml92/AACtiR1gHr1PIlYnnPYqjwWFa?dl=0
ABOUT JACKSON-SHAW
Jackson-Shaw, a national real estate development company headquartered in North Texas, has 46 years of experience developing diversified real estate properties mixing practical experience with vigorous entrepreneurship. The company has developed more than 60 million square feet since its founding which include a variety of project types, including hospitality, industrial and residential development. Diverse markets Jackson-Shaw currently develops within include Fort Worth, Dallas, Houston, Denver, Las Vegas, Scottsdale, Phoenix, Jacksonville and Washington, DC. For more information, visit www.JacksonShaw.com.
MEDIA CONTACT
Randy E. Pruett, Cooksey Communications
972-580-0662 x16, 214-505-1685 Mobile
Randy@CookseyPR.com