JACKSON-SHAW'S FIRST INDUSTRIAL PROJECT IN NORTHEAST HOUSTON
50 PERCENT PRE-LEASED
Only 160,000 Square Feet of Available Remaining Vacancy at Parc Air 59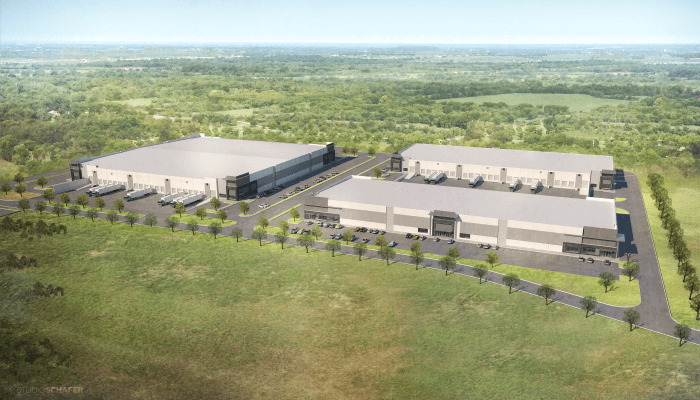 HOUSTON (April 22, 2019) – Jackson-Shaw, a national real estate development company, announced today that 50 percent of its new industrial development, Parc Air 59, has been leased prior to completion. This 320,000-square-foot, three-building urban industrial development in Humble, Texas, is the first industrial component within Houston-based Archway Properties' 111-acre, mixed-use business park which includes retail, medical office and other uses.
"Prior to the construction of Parc Air 59, there was a lack of quality, Class A industrial space along the U.S. Highway 59 corridor," said Grant Pearson, vice president of development at Jackson-Shaw. "This is an important development that will satisfy the demand in Northeast Houston, as is already evidenced by the exceptional leasing activity the project has experienced thus far."
Situated on 20 acres, Parc Air 59 is strategically positioned at the Will Clayton Parkway entrance to the George Bush Intercontinental Airport. Building 1, a 160,000-square-foot, cross-dock building, is located at 18870 Eastex Freeway 59. Buildings 2 and 3, located at 18860 Eastex Freeway 59 and 18850 Eastex Freeway 59, are both 80,000-square-foot, single-load buildings. Each offers modern facility features, including 28-foot and 32-foot clear heights, 130-foot and 210-foot shared truck courts, ESFR sprinklers and abundant trailer parking. The development, located in the City of Humble, has very competitive operating expenses due to the city's low tax rate.
Prior to reaching substantial completion at the end of the first quarter of 2019, the urban industrial development had already signed leases with two major tenants. A top independent producer of petroleum-based specialty products will occupy 120,000 square feet in Building 1. Paul Davis Restoration, which provides services to clean up and repair damage to residential and commercial properties due to water, fire, mold, storm or other disasters, is already occupying 36,000 square feet in Building 3.
"This key location offers tenants unparalleled access to the airport, Beltway 8 and U.S. 59," said Nathan Wynne, director at Cushman-Wakefield. "Coupled with the ability to cater to a wide variety of industrial users and provide the immediate area with much needed industrial space, it is unsurprising that half of the building space has been leased out before its completion."
Thackeray Partners is the project's equity partner, Arch-Con Corporation is the general contractor for the project, with Powers Brown as the project's architect, Kimley-Horn as the civil engineering firm and Comerica as construction financier. Jason Dillee, Beau Kaleel, Allison Bergman and Nathan Wynne of Cushman-Wakefield are managing the leasing assignment for the development.
PARC AIR 59 OVERVIEW, RENDERINGS AND PHOTOS
https://www.dropbox.com/sh/8m770waaddffyus/AACgHfZKMS33OSR4y2KqzzYZa?dl=0
ABOUT JACKSON-SHAW
Jackson-Shaw, a national real estate development company headquartered in North Texas, has 46 years of experience developing diversified real estate properties mixing practical experience with vigorous entrepreneurship. The company has developed more than 60 million square feet since its founding which include a variety of project types, including hospitality, industrial and residential development. Diverse markets Jackson-Shaw currently develops within include Fort Worth, Dallas, Houston, Denver, Las Vegas, Scottsdale, Phoenix, Jacksonville and Washington, DC. For more information, visit www.JacksonShaw.com.
MEDIA CONTACT
Randy E. Pruett, Cooksey Communications
972-580-0662 x16, 214-505-1685 Mobile
Randy@CookseyPR.com