JACKSON-SHAW OPENS 16-STORY AC HOTEL DOWNTOWN FORT WORTH
Design-Driven Hotel Offers an Effortless Travel Experience in Tarrant County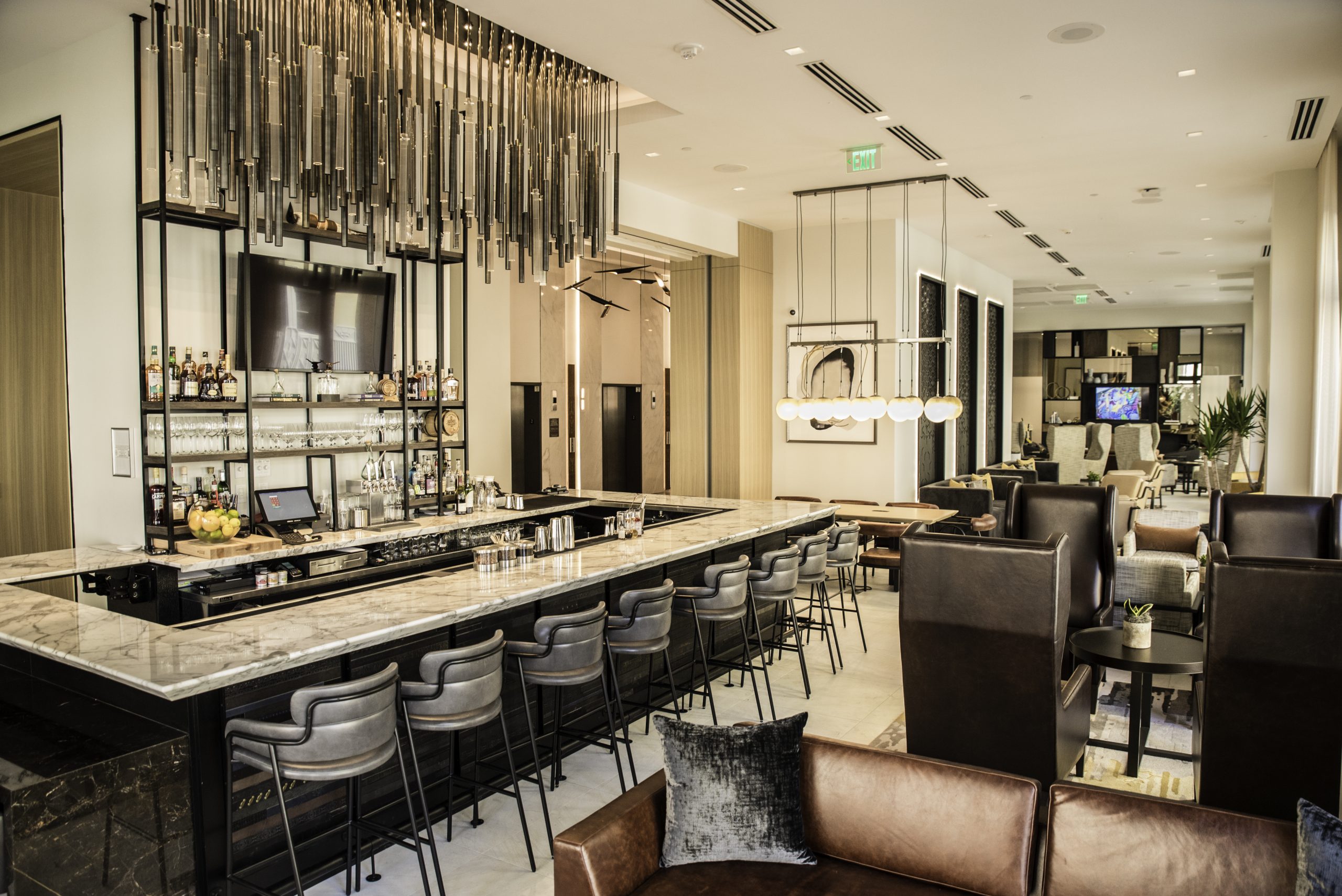 Photo by Rachel DeLira 
FORT WORTH (Sept. 28, 2020) – Jackson-Shaw, a national real estate development company headquartered in North Texas, today announced that the 252-room, 16-story AC Hotel Fort Worth is now open. The first AC Hotels by Marriott® to debut in Tarrant County, the highly anticipated property is owned and developed by Jackson-Shaw and managed by Crescent Hotels & Resorts. It is located 101 West 5th Street near Sundance Square on the southwest corner of Main and Fifth Street.
"The AC Hotel Fort Worth is designed for creative, well-traveled, visionaries who appreciate a thoughtfully designed space. The hotel features gallery-like art installations, a library, serene outdoor space and a bar that can also function as unconventional workspaces," said Joe Blewitt, Jackson-Shaw vice president of asset management. "Located in the heart of downtown Fort Worth, the modern lifestyle brand is a hub for guests to discover the coveted local scenes and talents, allowing them to create meaningful and authentic connections with each visit."
AC Hotel Fort Worth is led by a superb leadership team, including General Manager Aaron R. Oquendo and Director of Sales and Marketing Jillian Lehmann. The hotel is now accepting reservations for guest room stays, corporate meetings and events.
"Our team is eager to deliver a polished, harmonious and innovative lifestyle experience," said Oquendo. "With sophisticated modern guest rooms, sleek furnishings and intuitive technology elements, the hotel offers a blend of comfort and culture to deliver a 'Perfectly Precise Hotel' that strikes the exact balance of details that guests want and the services they need."
AC Hotel Fort Worth also features the AC Lounge, a communal space of inventiveness that showcases a full bar serving local beers and hand-crafted cocktails, along with tapa-inspired small plates. The property provides a European-style breakfast, a 24-hour purposely designed wellness center, and the added amenity of an independent coffee shop on the first floor scheduled to open later this year. The AC hotel experience provides purposeful collaboration by day and social essentials by night.
Development partners for the AC Hotel Fort Worth include:
Financing: Simmons Bank
Design: Merriman Anderson Architects
General Contractor: Austin Commercial
Project Management: Epperson Company
###
AC HOTEL FORT WORTH PHOTOS, LOGO AND LEADERSHIP TEAM
https://www.dropbox.com/sh/lnbr3igbtl0m2e2/AABdjpt7jp7qEGvcxS10hrrXa?dl=0
ABOUT AC HOTEL FORT WORTH
Opened in September 2020, AC Hotel Fort Worth celebrates the beauty of classic modern design with its European soul and Spanish roots. With flexible open spaces, purposeful design, signature moments and no unwanted extras, guests will maximize their stays with style and intention. Guests can experience a European-style breakfast, signature drinks, tapas and shareable plates from the curated menu. Adjacent to the historic Art-Deco Kress Building, the 242-room, 16-story, 165,722-square-feet AC Hotel Fort Worth will complement Tarrant County's already vibrant arts and culture scenes. Visit www.marriott.com/hotels/travel/dfwac-ac-hotel-fort-worth-downtown. Stay connected to the hotel on Facebook, on Instagram and on LinkedIn.
ABOUT JACKSON-SHAW
Jackson-Shaw is a national real estate development company headquartered in North Texas that has 48 years of experience mixing practical knowledge with vigorous entrepreneurship. The company has developed more than 62 million square feet since its founding, including hospitality, industrial and residential projects. Diverse markets where Jackson-Shaw develops include Dallas, Fort Worth, Houston, San Antonio, Denver, Las Vegas, Scottsdale, Phoenix, Jacksonville and Washington, D.C. Visit JacksonShaw.com.
ABOUT CRESCENT HOTELS & RESORTS
Crescent Hotels & Resorts is an award winning, nationally recognized, operator of hotels and resorts. Crescent currently operates over 100 hotels & resorts in the United States & Canada. Crescent is one of the few elite management companies approved to operate upper-upscale and luxury hotels under the brand families of Marriott, Hilton & Hyatt. Crescent also operates a collection of lifestyle independent lifestyle hotels and resorts under the Latitudes Collection umbrella. Crescent's clients include premiere REITs, private equity firms and major developers. For more information, please visit crescenthotels.com and latitudesbycrescent.com or connect with Crescent on LinkedIn
MEDIA CONTACT
Ashley Sears, Cooksey Communications
817-319-4570 Mobile