JACKSON-SHAW EARNS TWO AVA DIGITAL AWARDS FOR NEW WEBSITE – JACKSONSHAW.COM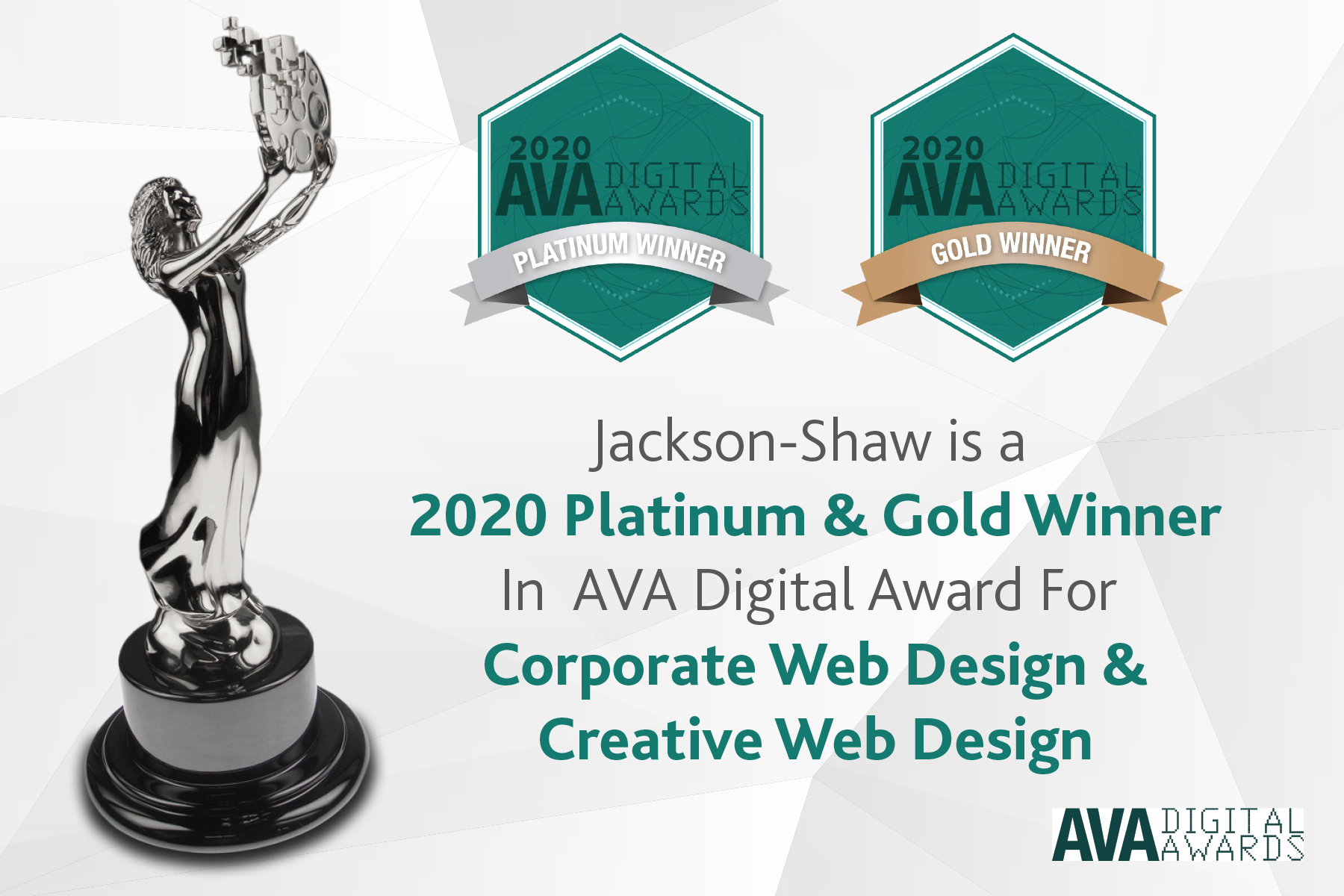 DALLAS – Jan. 14, 2020 – Jackson-Shaw, a national real estate development company headquartered in North Texas, recently won one Platinum honor and one Gold honor in the 2020 AVA Digital Awards program. This international competition recognizes work by professionals involved in the concept, direction, design and production of media that are part of the evolution of digital communication.
The two prestigious awards were both for the firm's new website (www.JacksonShaw.com), which launched in late 2019. The website team included Jackson-Shaw Vice President of Marketing Tammy Whiteman, Jackson-Shaw Marketing Communications Specialist Taylor Van Hemert and Clayton Everett Design Director of Digital Design Jeff Jackson. They worked to create a new user experience; organize content strategically; enhance the design, photography and graphics; incorporate social media; and use a content management system that makes updating easy.
AVA Digital Awards is administered and judged by the Association of Marketing and Communication Professionals (AMCP). The international organization consists of several thousand production, marketing, communication, advertising, public relations and freelance professionals. AMCP manages recognition programs, provides judges and rewards outstanding achievement and service to the profession.
Judges are industry professionals who look for companies and individuals whose talent exceeds a high standard of excellence and whose work serves as a benchmark for the industry. From the thousands of entries, about 15 percent won Platinum, the top award, and around 20 percent the Gold Award. Approximately 10 percent were Honorable Mention winners.
###
ABOUT JACKSON-SHAW
Jackson-Shaw, a national real estate development company headquartered in North Texas, has 47 years of experience developing diversified real estate properties mixing practical experience with vigorous entrepreneurship. The company has developed more than 60 million square feet since its founding which include a variety of project types, including hospitality, industrial and residential development. Diverse markets Jackson-Shaw currently develops within include Fort Worth, Dallas, Houston, Denver, Las Vegas, Scottsdale, Phoenix, Jacksonville and Washington, DC. Visit www.JacksonShaw.com.
MEDIA CONTACT
Randy E. Pruett, Cooksey Communications
972-580-0662 x16, 214-505-1685 Mobile