Jackson-Shaw Breaks Ground on Parc Air 59 in Humble
New Industrial Project Totals Nearly 320,000 Square Feet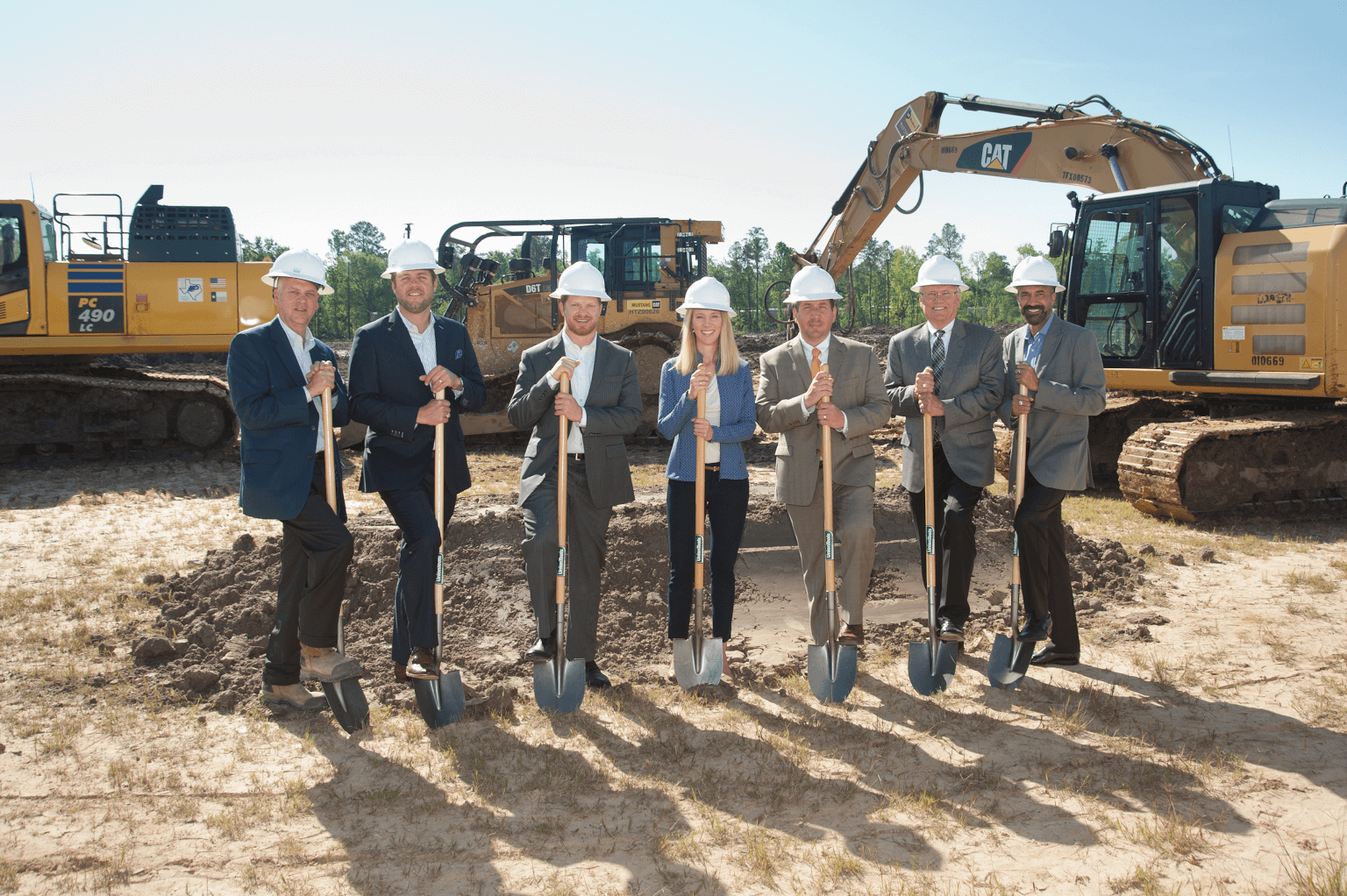 HOUSTON (May 1, 2018) – Jackson-Shaw, a national real estate development company, and Thackeray Partners, a national real estate investment firm, are pleased to announce the groundbreaking of Parc Air 59, a 320,000-square-foot, three-building Urban Industrial development in Humble, Texas. The development is the first industrial component within Archway Properties' 111-acre Park Air 59, a mixed-use business park which includes retail, medical office and other uses.
Situated on 20 acres, Parc Air 59 is strategically located in Houston's North submarket at the Will Clayton Parkway entrance to the George Bush Intercontinental Airport. This prime location offers tenants frontage on U.S. 59/Interstate 69, with direct access to east-west thoroughfares via Beltway 8, as well as close proximity to the master-planned communities of Kingwood, Spring and The Woodlands.
"Parc Air 59 will provide Class-A, last-mile industrial product to the underserved residential growth along the 59 corridor," said Grant Person, development manager at Jackson-Shaw. "The project is designed to cater to a wide range of industrial users as small as 15,000 square feet, and being located in the city of Humble, will have a competitive tax advantage over surrounding municipalities."
Slated for completion in the fourth quarter of 2018, Parc Air 59 includes three buildings, a 160,000-square-foot cross-dock and two, 80,000-square-foot single-load buildings. Each offers modern facility features, including 28-foot and 32-foot clear heights, 130-foot and 210-foot (shared) truck courts, ESFR sprinklers, and abundant trailer parking.
Jackson-Shaw has selected Jason Dillee, Beau Kaleel, Allison Bergman and Nathan Wynne of Cushman-Wakefield to oversee the leasing and management of the project. Arch-Con Corporation is serving as the general contractor, Powers Brown is the project's architect, Kimley-Horn is the civil engineer and Comerica is providing construction financing.
"We couldn't be more excited to bring Jackson-Shaw's first Houston project to market," said Jason Dillee, senior director at Cushman-Wakefield. "The location offers users excellent access to the airport, as well as Beltway 8 and US 59. The mix of product type will satisfy a wide range of users looking to be in the area."
About Jackson-Shaw
Jackson-Shaw, a national real estate development company headquartered in Dallas, has 45 years of experience developing diversified real estate properties that meet the needs of its clients and partners. The company has completed more than 60 million square feet of development since its founding and develops a variety of project types, including office, industrial, mixed-use, residential and hospitality. Jackson-Shaw's consistent goal is to increase and enhance values in real property assets for its clients and capital partners. Jackson-Shaw has offices in Dallas; Jacksonville, Florida; and Washington, DC. For more information, visit www.jacksonshaw.com.
About Thackeray Partners
Founded in 2005, Thackeray Partners is a real estate investment firm seeking a diversified portfolio of stabilized, value-add, and development opportunities in industrial and multifamily properties throughout the United States, with a balance of income and capital appreciation on behalf of its partners. Thackeray invests in real estate through a series of private equity funds. The limited partners of Thackeray's funds consist primarily of university and hospital endowments, charitable foundations, and U.S. based family offices. Since inception, Thackeray has closed on joint venture and direct real estate transactions totaling over $4.6 billion, representing equity placements of over $930 million. Total investment activity includes over 190 separate transactions representing approximately 20,500 apartment units and 19.1 million square feet of industrial space. For more information, visit www.thackeraypartners.com.
About Cushman-Wakefield
Cushman & Wakefield is a leading global real estate services firm with 45,000 employees in more than 70 countries helping occupiers and investors optimize the value of their real estate. Cushman & Wakefield is among the largest commercial real estate services firms with revenue of $6 billion across core services of agency leasing, asset services, capital markets, facility services (C&W Services), global occupier services, investment & asset management (DTZ Investors), project & development services, tenant representation, and valuation & advisory. To learn more, visit www.cushmanwakefield.com or follow @CushWake on Twitter.
About Archway Properties
With offices in Houston and Dallas, Archway Properties offers a broad range of real estate services to its clients and partners including acquisition, development, project management and asset management. Our principals have successfully completed projects with a total value in excess of $1 billion. For more information, please visit www.archwayprop.com.