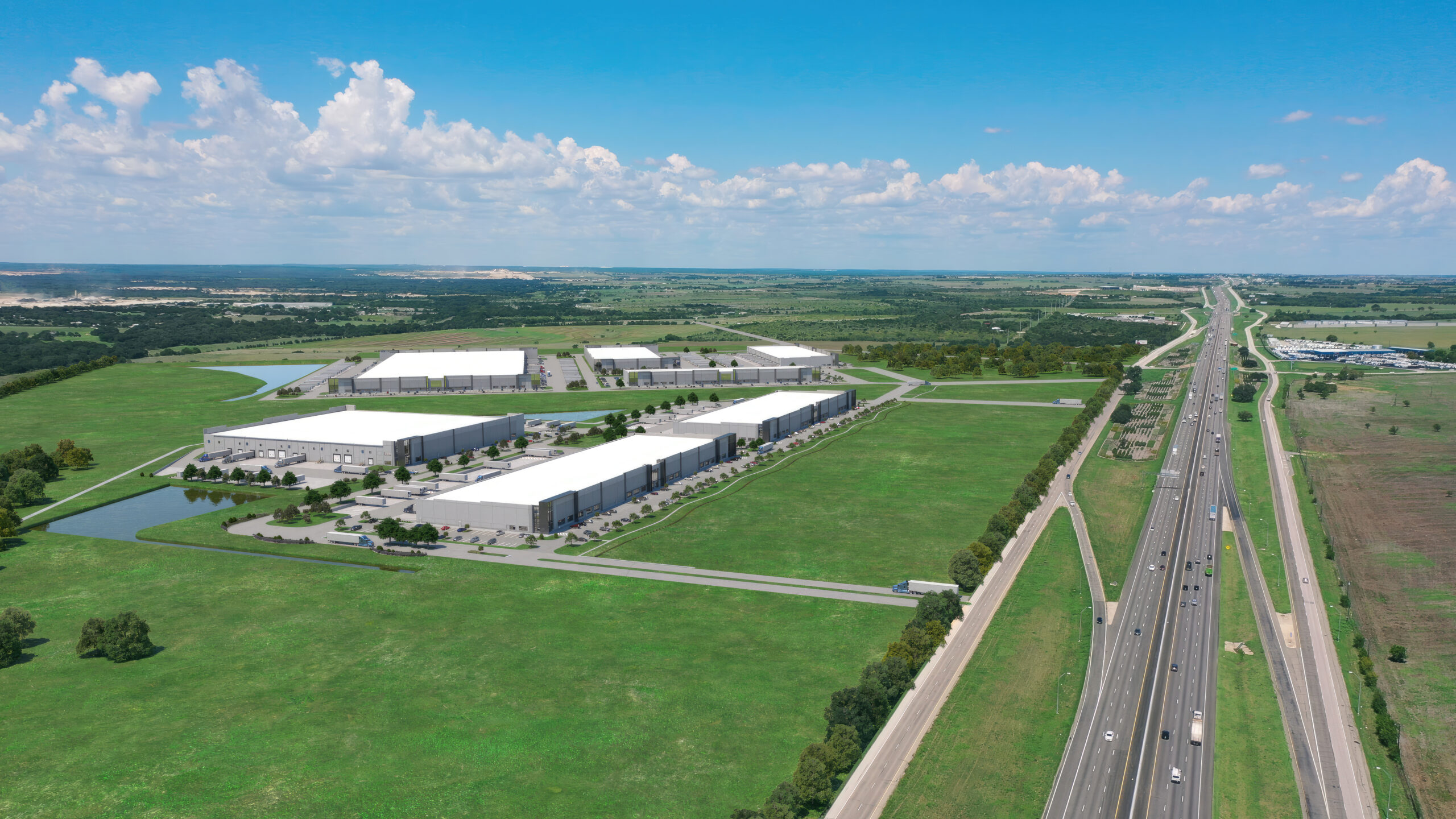 JACKSON-SHAW ANNOUNCES GRANDER DISTRIBUTING HAS LEASED A PORTION OF BUILDING 3 IN ITS CROSSPOINT BUSINESS DISTRICT
Onx Homes will move into all 204,000 square feet of Building 1 in December
GEORGETOWN, TEXAS (November 14, 2023) – Jackson-Shaw, a national real estate developer headquartered in North Texas, has announced that Grander Distributing has leased 41,950 square feet of Building 3 in its Crosspoint Business District. The lease was executed in April, and occupancy started in early November. Grander is the single source for cabinet and millwork manufacturers.
"The Jackson Shaw team was great to work with throughout this entire process," says Grander owner Price Brashear, "We're excited to not only set up business within their new park but establish our footprint on the ever-growing I-35 corridor."
Crosspoint Business District is on the west side of Interstate 35 (north of the intersection with State Highway 195 and south of Country Road 143). Phase 1 represents 61.7 acres and is a three-building business park totaling 488,000 square feet. Jackson-Shaw broke ground in Summer 2022, and buildings 2 and 3 are complete. While still in the planning stages, additional phases include the remaining 162.3 acres and are projected to have a combination of industrial, commercial and multifamily developments.
Onx Homes, an integrated DesignTech company on a mission to reshape the home building industry, has leased all of building 1, totaling 204,000 square feet, and will begin moving into their space in December. Onx Homes has more than 10 communities and 3,000 homes under advanced development.
"We're excited to welcome Grander to Crosspoint Business District and appreciate their trust in us to deliver a first-class facility for their new central Texas operations," said Jackson-Shaw Vice President of Development Miles Terry. "We continue to see strong demand from prospective tenants that want to be on the north side of Austin. Crosspoint offers great access and visibility from Interstate 35 and provides proximity to tremendous rooftop growth and a strong labor pool."
Diamond Realty Investments is the equity partner, and CrossFirst Bank is the lender. Joeris is the general contractor, with Powers Brown as the architect, Westwood as the civil engineer and Pinnacle Structural Engineering as the engineering firms.
###
CROSSPOINT BUSINESS DISTRICT PHOTO
https://www.dropbox.com/scl/fi/pb6rbg5kw9tcygbfqerzl/Jackson-Shaw_Crosspoint_Aerial_Grander.jpg?rlkey=vmqtms4wt5hzahkph978et6t3&dl=0
ABOUT JACKSON-SHAW
Jackson-Shaw is a national real estate developer headquartered in North Texas with vast experience mixing practical knowledge with solid entrepreneurship. Since its founding in 1972, the company has developed more than 63 million square feet, including hospitality and industrial projects. Diverse markets where Jackson-Shaw develops include Dallas, Fort Worth, Austin, Houston, San Antonio, Charlotte, Denver, Las Vegas, Scottsdale, Phoenix, Jacksonville and Washington, D.C. Visit JacksonShaw.com.
MEDIA CONTACT
Randy E. Pruett
214.505.1685 Mobile