Element Hotel at SkySong Enjoys Grand Opening,
Offers Unique Amenities and Approach to Sustainability
Newest Scottsdale Hotel Emphasizes "Art of Hospitality," Health and Wellness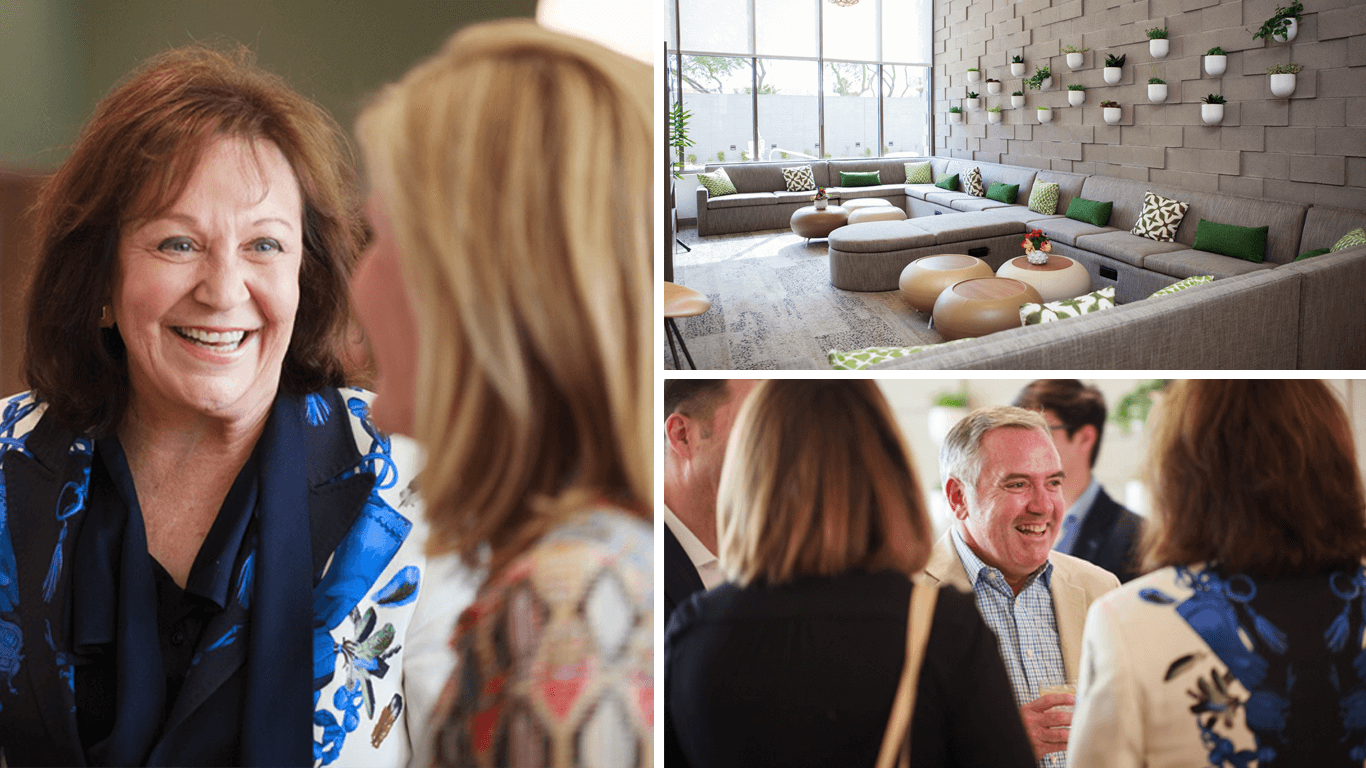 SCOTTSDALE, Arizona (July 19, 2019) — More than 150 people attended the Grand Opening of the new Element at SkySong Hotel on Thursday, July 18, where they got to see first-hand the hotel's unique health and sustainability features.
The Element Hotel at SkySong, a 157-room property that is one of Marriott's premium lifestyle brand hotels, located at the southwestern corner of SkySong, the ASU Scottsdale Innovation Center complex near Scottsdale Road and Enterprise Drive.
The hotel was developed by Jackson-Shaw, one of the nation's most notable names in hospitality development. The Element Hotel covers an expansive, 99,345 square feet of space and provides a highly sustainable, health-focused environment for guests.
With 2,201 square feet of communal and banquet meeting space and a 2,698 square-foot open-air courtyard, Element offers a wide variety of amenities for guests, ranging from a natural saline swimming pool, heavenly beds, and a motion fitness center.
Element offers extended-stay comfort along with features such as its healthy RISE breakfasts and RELAX evening receptions to bikes to borrow and electric vehicle charging stations. Element made history in 2008 as the only major hotel brand to pursue LEED certification for high-performance buildings brand-wide.
"Element hotels are truly unique in what they offer to their guests in the way of wellness and sustainability," Michele Wheeler, Development Partner of the Element Hotel Scottsdale at SkySong and President and Chief Operating Officer for Jackson-Shaw. "We believe the Scottsdale market — and SkySong specifically — is an ideal location for the kind of amenities and guest experience the Element brand provides."
Art is a major focus of the hotel, including the new art installation BALANCED, JOURNEY, an exclusive larger-than-life art sculpture prominently located at the hotel's garden entrance. Created by celebrated local artist Mark Carroll, the commissioned artwork, forged in 304 stainless steel and standing over eight feet tall, illustrates nature's organic forms, including the human figure and is inspired by Element Hotels' commitment to a balanced lifestyle while on the road.
And, as part of the Grand Opening event, the hotel featured artwork by students with Boys & Girls Clubs of Greater Scottsdale — and made a surprise contribution by the development team of $5,000 to the organization.
The Element hotel is part of the larger SkySong, The ASU Scottsdale Innovation Center. Plaza Companies is the master developer of SkySong in partnership with Holualoa Companies, ASU University Realty and the City of Scottsdale.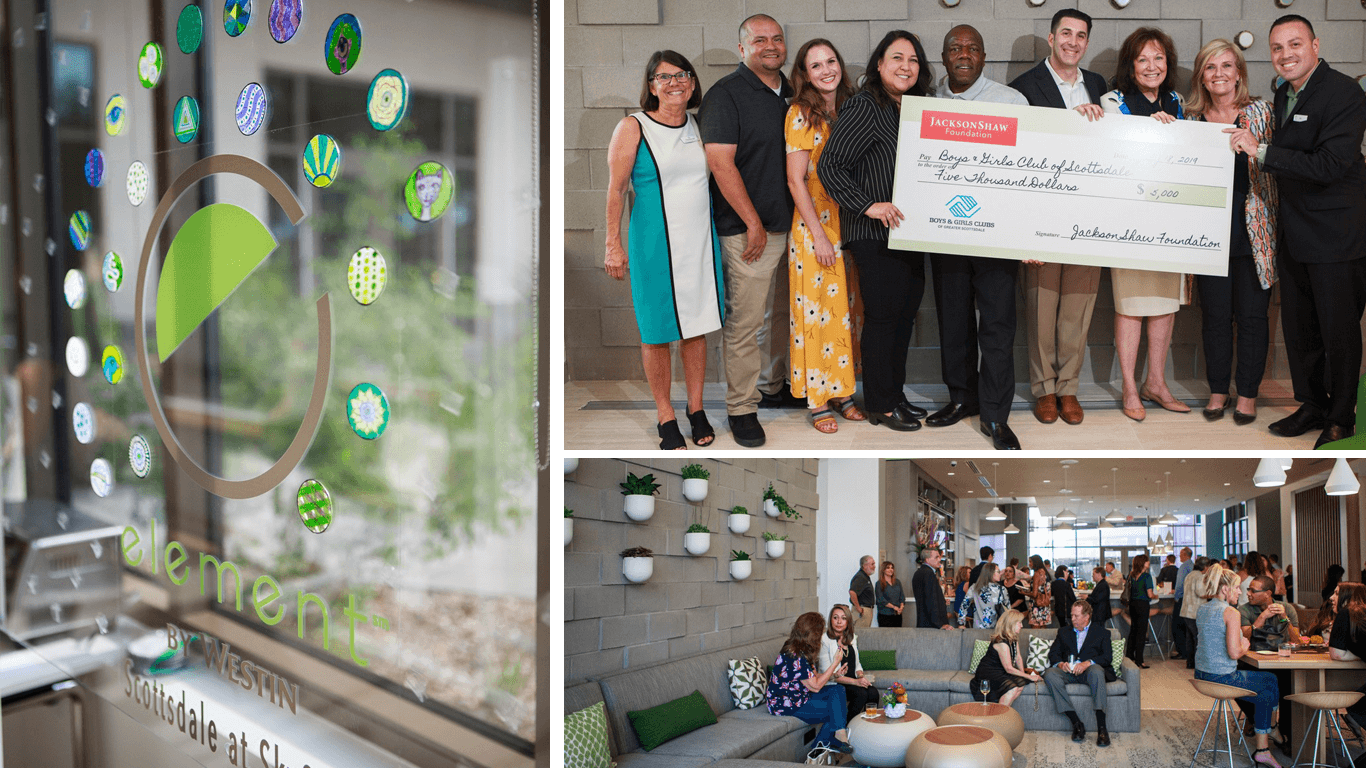 ABOUT JACKSON-SHAW
Jackson-Shaw, a national real estate development company headquartered in Texas, has 46 years of experience developing diversified real estate properties mixing practical experience with vigorous entrepreneurship. The company has developed more than 60 million square feet since its founding which include a variety of project types, including hospitality, industrial and residential development. Diverse markets Jackson-Shaw currently develops within include Fort Worth, Dallas, Houston, Denver, Las Vegas, Scottsdale, Phoenix, Jacksonville and Washington, DC. For more information, visit www.jacksonshaw.com
HOTEL PARTNERSHIP & FINANCING
The hotel is being developed in partnership with Somera Capital Management, a Santa Barbara-based real estate investment firm that was founded in 1994 to acquire and manage value-added real estate investments on behalf of its principals and accredited investor partners.
UMB Bank is providing construction financing.
HOTEL A&E and CONSTRUCTION
Jackson-Shaw engaged Cooper Carry, a nationally lauded architectural firm and general contractor, Layton Construction Company.
MASTER DEVELOPMENT – SKYSONG, THE ASU SCOTTSDALE INNOVATION CENTER
Plaza Companies is the master developer of SkySong in partnership with Holualoa Companies, ASU University Realty and the City of Scottsdale.
ABOUT ELEMENT HOTELS
Element® Hotels, part of Marriott International, Inc., is made to order for guests in the know and on the go. Its bright design defies convention, bathing guest rooms and public spaces in natural light. Stylish and sustainable throughout, Element offers extended stay comfort with a conscience and lots of signature amenities from its healthy RISE breakfast and RELAX evening reception to saline swimming pools, spacious fitness centers, bikes to borrow and electric vehicle charging stations. For more information, visit www.ElementHotels.com or connect on Facebook and Instagram. Element is proud to participate in Marriott Bonvoy, the new name of Marriott's travel program replacing Marriott Rewards®, The Ritz- Carlton Rewards®, and Starwood Preferred Guest® (SPG). The program offers members an extraordinary portfolio of global brands, experiences on Marriott Bonvoy Moments and unparalleled benefits including earning points toward free hotel stays and nights toward Elite status recognition. To enroll for free or for more information about the program, visit MarriottBonvoy.marriott.com.
ABOUT MARRIOTT INTERNATIONAL, INC.
Marriott International, Inc. (NASDAQ: MAR) is based in Bethesda, Maryland, USA, and encompasses a portfolio of more than 7,000 properties in 30 leading hotel brands spanning 131 countries and territories. Marriott operates and franchises hotels and licenses vacation ownership resorts all around the world. The company now offers one travel program, Marriott Bonvoy™, replacing Marriott Rewards®, The Ritz-Carlton Rewards®, and Starwood Preferred Guest®(SPG). For more information, please visit our website at www.marriott.com, and for the latest company news, visit www.marriottnewscenter.com. In addition, connect with us on Facebook and @MarriottIntl on Twitter and Instagram.
MEDIA CONTACT
Tom Evans
602.448.5483 | tom@evanscommunications.com