JACKSON-SHAW ANNOUNCES PROMOTION OF MICHELE WHEELER TO PRESIDENT AND CHIEF EXECUTIVE OFFICER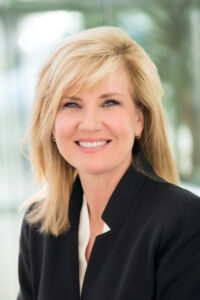 DALLAS (July 22, 2022) – Jackson-Shaw, a national real estate development company headquartered in North Texas, announces the promotion of Michele Wheeler to President and Chief Executive Officer. Wheeler previously was President and Chief Operating Officer.
"Michele joined Jackson-Shaw in 2005 and has held key positions in finance, development and management," said Founder and Chairman Lewis Shaw. "She's created considerable value for investors and partners across the firm's product offerings, including industrial, hospitality and residential developments in diverse markets throughout the United States."
Among Wheeler's honors, D CEO Magazine named her "Commercial Real Estate Executive of the Year" in 2020. Professionally, her leadership roles have included President of the National Association of Industrial and Office Professionals (NAIOP); National Product Council Chair for the Urban Land Institute; Chair of The Real Estate Council (TREC) (the first woman to hold that position); Director of the TREC Foundation; member of Commercial Real Estate Women (CREW); member of the Real Estate Financial Executives Association; and board member of the Jackson-Shaw Foundation.
"2022 marks Jackson-Shaw's 50th year in business. While much has changed since 1972, our mission has remained the same: Identify and develop exceptional real estate opportunities, thereby creating distinctively designed environments where people and companies thrive," said Wheeler. "This is all possible because of the exemplary Jackson-Shaw staff, investors and our partners."
MICHELE WHEELER HEADSHOT
https://www.dropbox.com/s/01h1k2lzh73xyt2/Michele%20Wheeler_CEO.jpg?dl=0
ABOUT JACKSON-SHAW
Jackson-Shaw is a national real estate development company headquartered in North Texas with 50 years of experience mixing practical knowledge with solid entrepreneurship. Since its founding, the company has developed more than 62 million square feet, including hospitality, industrial and residential projects. Diverse markets where Jackson-Shaw develops include Dallas, Fort Worth, Austin, Houston, San Antonio, Charlotte, Denver, Las Vegas, Scottsdale, Phoenix, Jacksonville and Washington, D.C. Visit JacksonShaw.com.
MEDIA CONTACT
Randy E. Pruett, Cooksey Communications
214-505-1685 Mobile